Chinese appetite for Australian property dropped off significantly since the market peaked in 2017 as a result of tighter Chinese capital controls and increased foreign buyer taxes. NSW doubled the stamp duty tax it charges foreign buyers from 4 per cent to 8 per cent in July 2017.
Local agent Steve Beattie, of McGrath, agreed the buyer demographic in Penshurst had changed as overseas purchasing power diminished.
'Market has stabilised'
"Chinese buyers equated to a lot of the growth [in the suburb] and since there's been changes – extra costs for them to buy and the availability of money – there's a different type of buyer and the market has stabilised," Mr Beattie said.
"Definitely we're seeing more families, first-home buyers and people buying first houses who are trading up, or they were renting and jumping straight to a house."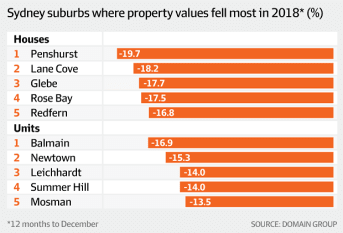 The median house price in Lane Cove also dropped significantly over the year by 18.2 per cent to $1.8 million followed by Glebe where values slipped by 17.7 per cent to $1.58 million.
The biggest drop in unit prices over the year was in Balmain, in Sydney's inner west, where the median price fell 16.9 per cent from about $1,275,000 to $1,060,000.
"A lot of people thought Balmain wouldn't be affected because of its proximity to the city – but a lot of buyers are facing the same problem … not being able to get finance," Megan Smith, of Ray White Balmain, said.
"The prices just weren't sustainable, but we have seen a lot more activity this year – there are more enquiries and more buyers coming through properties."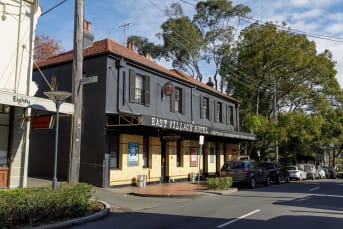 Unit prices also fell in other parts of Sydney's inner west, particularly in areas where there has been an influx of new apartments, including Newtown (-15.3 per cent), Leichhardt (-14 per cent), Summer Hill (-14 per cent) and Erskineville (-12.5 per cent).