That includes any firm with more than 50 per cent capital share held by the government of a foreign country, or part of a foreign country, and firms where more than 50 per cent of voting power is held by a foreign government.
Companies are also banned if a foreign government is in a position to appoint more than 50 per cent of the board of directors, or where directors are "accustomed" or obliged to act in accordance with the interests of a foreign power.
The new electoral funding and disclosure laws follow the Coalition's foreign interference package and strengthened espionage offences.
A new transparency register, overseen by the Australian Electoral Commission, is now live online, offering all publicly available information about political parties, their associated entities and other non-party political actors.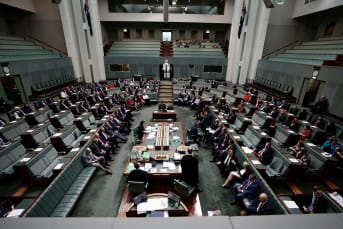 Monash University law faculty senior lecturer Yee-Fui Ng said this week's changes brought Australia in line with two-thirds of countries overseas, including close international allies New Zealand, Canada, the United States and United Kingdom.
She said foreign donations made up just 2.6 per cent of donations to Australian political parties in 2015-16, making the changes relatively easy for the parties to manage.
Dr Ng said more reforms were needed.
"It's not in the political interest of the major parties to regulate the rest of the donations, so it's a bit of an easy win to say they're taking all these actions on foreign donations.
"The Greens are looking for more reforms, including caps on all donations… because that would level the playing field for everyone, whether you are a rich miner or a wealthy business person or a company wanting to make a lot of donations.
"A cap of say $1000 for each person and each company would fix the problem of some people having a bigger voice than others."
Dr Ng warned loopholes remained in donations laws, including leaving some foreign companies with the ability to channel donations through their Australian subsidiaries.
"These laws do increase the net of people regulated by the Electoral Commission, including in the new category called political campaigners, which will cover some groups including GetUp," she said.