Strong message
There's an apparel line in the works, to be launched in August along with a new logo. Close to Holt's heart are the campaign images for the Autumn/Winter collection (dubbed The Botanist). "The images are very lifestyle-led. It's not just bags and scarves, it's a brand." The campaign, says Holt, is "Australian through and through" and was shot in Tasmania, but "feels very international". This, Holt says, is key in a crowded global market.
Though the era of the "it bag" might be over, in its place has come a market saturated with cult hits at more affordable prices. Oroton's challenge, acknowledges Holt, is to compete with emerging global brands like Staud, Wandler and Danse Lente, with whom it shares price points, if not necessarily cult status. "Australians have a funny thing – we think international means better. But there's no reason an older brand can't feel fresh. The bags we've created, my daughter and I share them. She's 21. That's my goal – the mother and the daughter buying."
The team is working on new e-commerce strategies, particularly for international customers. "Digital is a huge opportunity for us," she says. "It's early days but we're big on creating content, telling the brand story." Video content, says Holt, is "extremely important" and will be rolled out regularly.
"Just having the bags isn't enough. Customers want to shop from a brand that they believe in and can engage in."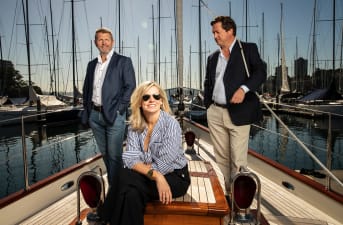 Across its 41 bricks and mortar stores (and additional Myer and David Jones concessions), layouts and fittings will change to reflect the brand's new direction. "Every touch point needs to have a consistently strong message. You have to be all in."
Asked whether the company's directive is to pull in revenue of $200-$300 million annually (up from $90 million in 2017) within five years, as new owner Vicars told AFR Magazine last year, Holt laughs. "Uh … I guess so, if he said that. But I wouldn't want to put words into Will's mouth." She pauses. "We're all working very hard."