Building the Arras brand has been a juggling act. On one hand, the company has actively sought and received enthusiastic critical acclaim by entering the top vintage wines in wine shows. On the other, the company hasn't wanted too much of a surge in demand for these top wines because the supply just hasn't been there.
Finite resource
A few years ago, Accolade introduced two slightly lower-priced non-vintage wines to the range, Arras Brut Elite ($45) and A by Arras ($25), in an attempt to satisfy the market. But Carr tells me they're still only able to make as much as they can from the finite Tasmanian vineyard resource, and even Brut Elite is now on allocation.
Just before he headed off for London to receive his award, I sat down with him again to taste a few special limited-release wines in the House of Arras range – magnums of vintages that had been released previously in 750ml bottles, and a re-release of the outstanding 2001 blanc de blancs.
All these wines have spent longer on lees after the secondary fermentation and before disgorging than the "regular" Arras vintages, which means they have been given time to develop even more complex flavours. This means that the magnums in particular, disgorged in March this year, are perfect right now for any celebrating you might be indulging in over the next few days – although, as Carr points out, they'll also improve in the cellar if you can bear to keep your hands off them.
"Ideally, I like to drink these wines after they've spent at least two years on cork after being disgorged," says Carr. "That's why we've put the disgorging date and the bottle number on these special releases, so you can decide when you think the wine will be best to drink. We think cork age adds character to the wine."
To demonstrate, he pours a glass of the 2001 museum release blanc de blancs, for me the standout wine in this special release line-up: its 15 years on lees is apparent in the fabulously complex flavours, but two years on cork also brings an extra savoury depth and roundness.
It's an extraordinary sparkling wine and a great vindication of the vision Carr laid out when I sat down and tasted his inaugural releases two decades ago.
Brilliant bubbly: Big bottles and blanc de blancs
2007 Arras Grand Vintage [Tasmania]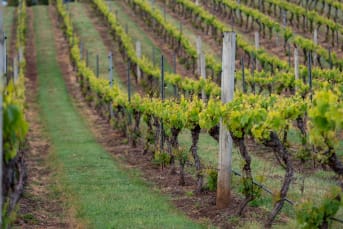 Wine ages more slowly in magnum than it does in bottle, as this superb sparkling chardonnay-dominant blend illustrates: still glowing a youthful pale yellow in the glass, a swirling perfume of vanilla wafer and yellow flowers leaps out at you, enticing you to take a sip and revel in the chalky lemony freshness. And then, when you've finished that glass, to pour yourself another because, hey, it's a magnum and there's plenty to go round. 1500ml $250
2003 Arras EJ Carr Late Disgorged [Tasmania]
Wines labelled EJ Carr represent the pinnacle of the Arras range. The currently available 750ml version of the EJ Carr is the 2004 ($200), and is excellent: chalky and fresh after spending 13 years on lees, very savoury and umami-rich. But this special release of the 2003, which spent an extra year on lees and is in a bigger bottle, is utterly superb: richer, more complex, toastier, with big bold flavours of almost briney intensity. And it'll improve if cellared: "I'd buy a six pack and put them under the bed for a year or two," says Ed Carr, who is obviously on an appropriately enormous salary. 1500ml $400
2001 Arras Museum Release Blanc de Blancs [Tasmania]
As good as the EJ Carr is, though, this re-released 2001 blanc de blancs – a small parcel of bottles held back for further ageing on lees – is absolutely amazing. Almost unbelievably fresh, with a cascade of complexity that flows across the tongue – grilled nuts, oyster shell, smoked mussel – it's super-savoury and super-long. Yes, it's the same price as many top-shelf, big-name champagnes but it's easily their equal if not superior. $350
These wines are available in very limited supply. To inquire about them call (03) 6382 7622 or email enquiry@houseofarras.com.au. houseofarras.com.au