'Our prime ministers don't last very long'
Still, he said he would bring the campaign to the NSW election in March and the federal election, which has to be held by May 18.
He said NSW was one of the last states holding out against enacting a renewable energy target and "we hope we'll get that done in March".
For the federal election, "climate is one of the big two issues for that and we hope to continue to keep it on the agenda and get some real change", Mr Cannon-Brookes said. Mr Gore's 24 hours of Reality broadcast was shown around the world, including on SBS Viceland.
Queensland Health Minister Steven Miles told the program last week's record-breaking November heatwave in Queensland had put enormous pressure on the state's health system with calls to ambulances "literally off the charts". He said it was "pretty hard to see our Prime Minister embracing coal really aggressively".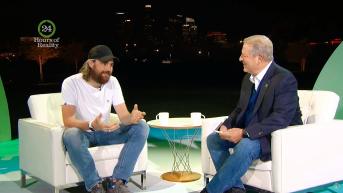 "But I guess the great thing about Australia is that our prime ministers don't last very long and I am pretty sure we are going to have one pretty soon who'll be much more committed to renewables, much more committed to working with us to delver that transition and I'm really looking forward to that."
Mr Morrison brought a lump of coal to Parliament on February 9, 2017, to argue for coal power's superior reliability during a record-breaking heatwave that caused brownouts in South Australia and NSW.
In SA a sudden drop in the wind contributed to power cuts, but in NSW the failure of ageing coal power stations contributed to load shedding at the Tomago Aluminium smelter near Newcastle the next day.