"You are supposed to leave the bench when you are angry, but I'll stay for a bit longer to finish this hearing off," the judge said.
Local publications including The Age, the Herald Sun, Ten and SBS are applying to have the suppression order lifted in a hearing on Friday
Global websites available in Australia including the Jeff Bezos-owned The Washington Post and National Public Radio were publishing the news on Wednesday and Thursday including in push notifications to Australians with the Washington Post app.
The suppression order issued by the Victorian County Court applies in "all Australian states and territories" and "on any website or other electronic or broadcast format accessible within Australia".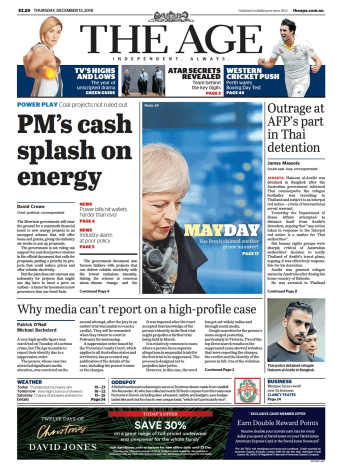 Other global websites including the Daily Beast, which first reported the conviction, have geoblocked the reports to Australian readers.
"We understood there could be legal, and even criminal, consequences if we ran this story," Daily Beast editor Noah Shachtman told the Post. "[This is] major, major news. The public deserves to know about it."
The New York Times, a fierce rival of the Post, is yet to publish a story. Its Australian bureau chief, Damien Cave, indicated that was because it had "reporters on the ground in Australia" through its local bureau. The Guardian, which also has local reporters, was also yet to publish a story.
Major Australian news outlets on Thursday were forced to carry cryptic front pages about the case explaining that significant news had unfolded but could not be reported.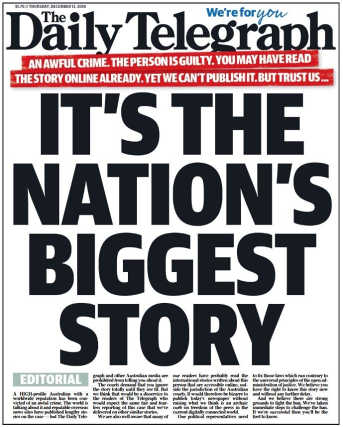 "It's the nation's biggest story," The Daily Telegraph's headline screamed in a full front-page story. "A high-profile Australian with a worldwide reputation has been convicted of an awful crime."
The Age ran a front-page story headlined "why media can't report on a high-profile case".
"A very high-profile figure was convicted on Tuesday of a serious crime, but The Age is unable to report their identity due to a suppression order."
The widespread reporting of the case globally and on social media has sparked a debate about the application of suppression orders – almost unheard of in the United States – despite being quite common in Australia.
Reports that Victoria accounts for 52 per cent of Australian suppression orders has led to it being labelled the "Suppression State" on social media.
Victorian Premier Daniel Andrews said he was "not able to speak about [the case] as much as I'd like to" but has vowed to fully implement the recommendations of an independent review into the state's suppression orders in this term of government.
"No one should underestimate our absolute resolve to deliver on the findings of the recommendations that were made by former Justice Vincent, accepted by our government, work began in the last term, and it will be completed in this term," he said.
In the September 2017 report by retired judge Frank Vincent, he called for a "real-world" approach after finding there was nothing to prevent cases being discussed on social media, blogs and myriad other channels.
However others including Julian Assange's barrister and adviser Greg Barns are defending the court's actions.
"The lack of regard for fair trials is sickening," he tweeted.