It is a story that everyone here is close to. Christchurch is approximately the size of Canberra. Some close friends of my family have Muslim neighbours next door. On Friday, they were called on to look after the neighbours' kids, whose father had been at the mosque and hadn't returned. Their mother had gone to look for him.
It's a measure of the horror that befell their community that they can count themselves lucky that their father only needed surgery on his spine as a result of a bullet wound.
A surgeon I know explained that Christchurch is really good at handling these mass events, sentiments echoed by the chief surgeon Greg Robertson on Sunday. He noted that while good, he didn't want to have to get any better. He reckoned the hard thing this time was that it was man-made: the trauma would come later. Of the dozens in the city's hospitals most are men, there is at least one woman and three children – one a four-year-old in critical condition.
Another aspect of the killings is the effect it is expected to have on already traumatised children, kids experiencing raised levels of anxiety after the earthquakes that shook the city in 2010 and after.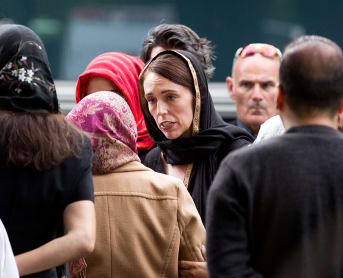 On Friday, many Christchurch schools went into lockdown. Lockdown protocols are not just children being kept in school for their safety. It is essentially old fashioned "duck and cover", children have to stay out of sight of windows, on the floor or under desks. They cannot go near windows. So for many schools – which have single story classrooms and doors with glass between them where toilets are located – this meant no kids could go to the bathroom. And on Friday, depending on the school, the lockdown lasted between four and five hours.
Some people I spoke to said buckets had to be used at their school. For young children, this must be terrifying. Particularly children who, from an early age, couldn't even trust the Earth beneath their feet to stay still. It is often forgotten that the aftershocks from the Christchurch earthquake – several thousand of them – lasted for well over a year.
Prime Minister Jacinda Ardern's response to these attacks so far has been impressive, a view shared by everyone I spoke to in Christchurch on Saturday and Sunday. Donning a headscarf to go and grieve with the Muslim community was simply seen as polite and respectful. It also demonstrated something I discovered after spending some time with her on the Kiwi campaign trail in 2017. Despite what anyone might think of Ardern's policies or grasp of economics, she is a fundamentally empathetic and kind, caring person.
Already she has said that Kiwi gun laws – which were reviewed in 2017 before the then government rejected 13 out of 20 recommendations – will be changed. I'd never really thought about it before, but I know heaps of people with guns. University of Otago experts guess that there are between 1.5 million and 4 million of them in country. The population is 4.8 million. The shooter owned his semi-automatic weapons legally.
As one headline put it, this is 'The end of our innocence'.
That about sums it up.