Mr Smith, 45, is planning to reinvest in a balanced portfolio of equities and fixed income generating a return of about 6 per cent.
He invested in 2009 in the belief that property prices doubled every 10 years, which is a typical sales pitch used by real estate agents.
Prices for properties in popular Sydney and Melbourne locations did more than double, fuelled by record low interest rates, strong population growth, exuberant markets and supply pressure.
Government statistics reveal the share of investors in Australia's home loan market has also dropped to its lowest level since 2009 because of weakening sentiment and tighter credit.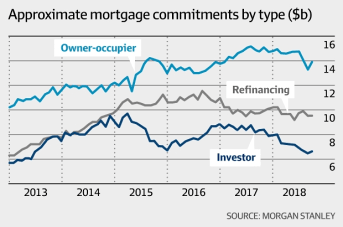 Investor lending is down more than 22 per cent on the same time last year.
Mr Smith has grown disillusioned with low rental returns and increasingly fearful that a market crash will slash his slender capital gains.
"I'm sick of losing money all the time," he said about negative gearing. "It has not been a great investment and I am now worried it will get caught when the property bubble bursts."
Mr Smith said he might then consider buying back into the market at a cheaper price.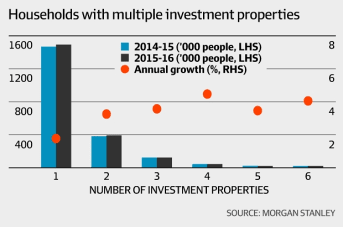 He is growing more anxious as prices fall, some lender rates rise, incomes remain static and the likelihood grows of tax changes if a federal Labor government is elected this year.
Cate Bakos, a buyers' agent for Melbourne-based Cate Bakos property, believes lower prices and increased supply will attract more buyers back into the market.
Ms Bakos said tight credit was the biggest problem weakening demand, particularly checking income and spending details provided by applicants.
"Banks are still being very picky," she said.
Demand is resilient in the first time home buyer $400,000 to $700,000 range where first time purchasers qualify for exemption from stamp duty.
Some analysts estimate there has been a five-fold increase in the number of loan applications rejected by banks during December compared to the previous year as lenders continue to crack down on lending standards.
"With prices forecast to keep dipping, it's only natural that some home owners and investors would be looking to cut their losses or get out of property entirely," said Graham Cooke, insights manager for Finder.com.au, which monitors rates and fees.
"A positive take-out of all this is that housing continues to get more affordable for those who have been saving a deposit and waiting to get into the market."
Mortgage brokers, who act as an intermediary between lenders and banks, claim concerns about the findings of the Hayne royal commission are adding to lender nervousness.
Sentiment is also being weakened, particularly for off-the-plan buyers, by public alarm about building problems, such as the defective Opal apartment building in Sydney's west.
Phil Dwyer, national president of the Builders Collective of Australia, said Opal was "having an enormous impact on property buyers, particularly off-the-plan buyers considering a high-rise apartment".
Mr Dwyer, an award-winning builder of more than 45 years' experience, added: "It is refreshing potential buyers' memories about previous incidents involving high-rise apartments and shoddy workmanship."
Combustible cladding on Melbourne's Lacrosse building caused millions of dollars in damage after fire raced up 13 storeys of the building in as little as 10 minutes in November 2014.
It also sparked a row between tenants and builders about who was responsible for the fire and cost of repairs.
Major lenders are responding to the mixed messages by focusing on high quality loan applicants with a deposit of about 20 per cent who meet their tough new income and spending requirements.