All sorts of stunts have been pulled to defend listed investment vehicles from their rivals, but the politicking of George Wang, known for mopping up the remnants of BBY, would put a student politician to shame.
Wang's AIMS Property Securities Fund is defending its third wind-up motion since 2013, all of which have been launched by serial agitator Fred Woolard (of Samuel Terry Asset Management). Woolard is, joined, this time, by Sandon Capital Management Capital's Gabriel Radzyminski. The two collectively hold 18.6 per cent, and an extraordinary general meeting to vote on their proposal is being held on Monday.
So AIMS directors, who along with Wang include independents John Love and Richard Nott, have called their own EGM, to be held first, on Friday.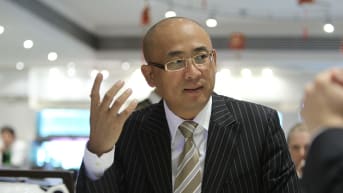 At the board-sanctioned meeting, they've proposed their own motion to wind up the fund! But they recommend shareholders vote against it. And they've put up another motion calling on investors' support for "new and exciting strategic initiatives, designed to create further value for unitholders". The explanatory notes reveal said "exciting" initiatives are having the fund rated by an agency, and the commencement of a strategic review. Neither of which would require shareholder approval. Neither of which feel very exciting.
The agitators are characterising the first EGM as a laughably transparent attempt to take advantage of inattentive (or easily confused) investors, who might, by mistake, vote the wrong way, or only once, and skew a result that should otherwise be inevitable. The small-cap space is the very definition of fast and loose, but even so, neither the ASX nor ASIC should be putting up with this.