St Hugo wants to target corporate guests, taste-makers and aspirational drinkers who avail themselves of the hospitality where tickets cost upwards of $1000.
It has constructed a cellar door on-track where the range can be sampled and on Thursday chief winemaker Peter Munro will host a wine tasting in the penthouse of a hotel overlooking the track.
Those attending the race in corporate suites and the exclusive Paddock Club will be treated to St Hugo's 2016 vintage Coonawarra cabernet sauvignon as part of the arrangement.
Mr Fry said sales of premium Australian red wine had proven resilient in the face of softer economic conditions and weaker house prices that are said to make home owners more reluctant to splurge as part of the "wealth effect".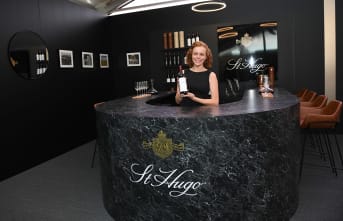 "Over Christmas we did see a softening in champagne," Mr Fry said, explaining there was evidence of a pull-back from the occasional buyer.
"We haven't seen a big impact on premium reds. If we take St Hugo we are still seeing very strong demand for Coonawarra cabernet savignon and Barossan shiraz both domestically and internationally."
The sponsorship is the third leg of a strategy to enhance awareness of the brand that began with a $5 million investment in the Barossa winery, expanding the range to include more varieties and high end wines costing $250 a bottle and, finally, international expansion.
For those not as fortunate to have a ticket to one of the luxury enclaves, Pernod Ricard's mass market wines such as Jacobs Creek will be available elsewhere on track.