Market domination
The big four firms dominate the market for corporate audits in Australia and around the world, carrying out more than 95 per cent of ASX 200 audits.
At the same time, auditing has effectively become a side-business for the firms compared to their faster-growing consulting practices. Research by The Australian Financial Review, cited by the committee, shows the percentage of statutory audit work done by the big four in Australia fell to between 14 per cent and 21 per cent last financial year.
The Financial Review also reported last week that the competition regulator is doing preliminary research into whether the firms operate as a cartel, or in an anti-competitive manner.
It also comes after a brace of earlier British reviews into the UK auditing sector, one from its competition regulator and one by a former Treasury mandarin Sir John Kingman, which urged a major shake-up of the industry.
The Australian arms of the big four firms have already rejected a move by the majority of their UK counterparts to stop providing non-audit services to their large listed clients.
Audit quality: OK/not OK
The committee said there were conflicting views about audit quality between ASIC, which as consistently said the quality of audits needs to improve, and the Financial Reporting Council, a body responsible for oversight of accounting standards, which does not believe there is any systemic problem.
ASIC's latest audit quality report, which uses a risk-based sample of work, found that one in five audits reviewed lacked the desired assurance that company financial statements were free from material error. The regulator also highlighted instances where the firms had risked compromising their "appearance of independence" over their provision of non-audit work to audit clients.
The 2016 set of results, when the deficiency rate was 23 per cent, led to Greg Medcraft, the then-outgoing chairman of ASIC, telling the Financial Review the quality of auditing in Australia was "appalling", which he warned could lead to an Enron-style corporate collapse.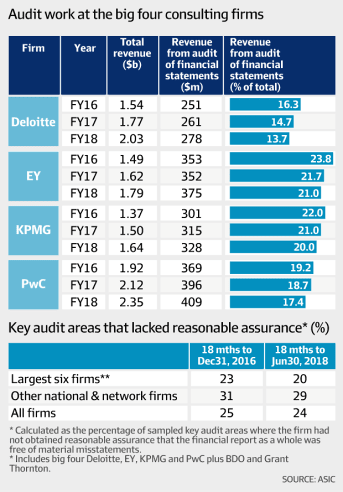 In contrast, the FRC, a body led by former PwC partner Bill Edge, believes there is no systemic problem with audit quality in Australia.
The FRC's response to ASIC's audit quality report noted that "the FRC has found no evidence of systemic issues or major concerns that external auditing was not satisfying its core role of maintaining trust and confidence in financial statements prepared by companies through stakeholder consultation".
The committee wrote that ASIC's use of a risk-based sample means means results are not directly comparable and it could be that ASIC is just "improving its targeting" of high-risk audits as opposed to finding evidence of poor audit quality.
To resolve the matter, the committee recommended that "ASIC devise and conduct, alongside or within its current Audit Inspection Program, a study which will generate results which are comparable over time to reflect changes in audit quality."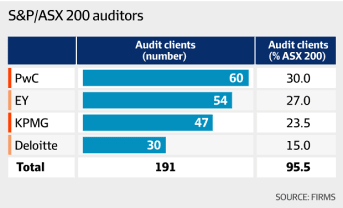 To contact the author of this article: edmundtadros@afr.com.au