Mr Morrison said the fund was a product of sound economic management. Next week, the mid-year budget update will be released showing the budget is in a stronger position than forecast in May, due to a surge in corporate, income and superannuation tax revenues, and is on track for a surplus in 2019-20, despite several billion in extra spending since the May budget.
"This is a tangible benefit of a strong economy," Mr Morrison said. "A strong economy gives us the ability to continue our record investment in medicare, hospitals, new medicines and new treatments."
The fund will provide additional services in such areas as mental health, drug and alcohol treatment, and specialist hospital services including cancer treatment, rural health and hospital infrastructure.
Today's COAG meeting will be dominated by discussions on population with Mr Morrison keen for the states to sign up to his new proposal in which they would each submit how many migrants they needed. The government would then set an annual immigration intake cap based on an aggregate of state requests but with a floor to ensure it was not too low. Mr Morrison has suggested keeping the current intake of 160,000.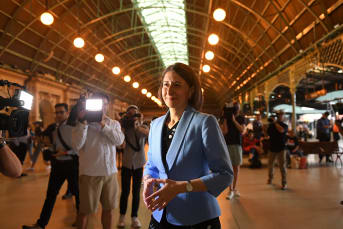 The recently re-elected Victorian Labor government is threatening to make trouble, believing the population plan was dreamt up during the state election to help then-Liberal leader Matthew Guy and his anti-population push.
NSW Liberal Premier Gladys Berejiklian, however, wants a pause on immigration in her state until infrastructure catches up. She has appointed a population panel to advise her government on how to proceed.
She wants the issue kept at a COAG level and not hived off to the bureaucrats. And she will argue today that the states have a greater say on where Commonwealth infrastructure funding dollars go so they are better aligned with state priorities.
"I will again be calling for a dedicated COAG meeting be held on population and for the issue to remain the responsibility of first ministers, and not referred to others, until a plan is put in place," she said.
"For far too long, NSW has been burdened with ballooning population growth without us being properly consulted on the targets, where people will live and what services and infrastructure growing communities will need.
"NSW has the largest infrastructure pipeline in the nation but we are still playing catch-up and I want us to be ahead of the game," Ms Berejiklian said.
South Australian Liberal Premier Steven Marshall, attending his first COAG, said he would be arguing the opposite.
"We've made it very clear we want to see a larger share of the nation's population growth," Mr Marshall said.
"We want to keep more of our young people in this state. That will have a massive effect on growing our population."
He said SA also wanted more international students.
"We also want some targeted skilled migration in regional South Australia to deal with some of the skill shortages that are emerging in those communities."