Last January, Mr Palmer and his privately owned Mineralogy received a Western Australia Supreme Court-ordered payment of $200 million from Chinese mining conglomerate CITIC in relation to a disputed royalty stream.
Mr Palmer had an estimated net wealth of $2.84 billion, according to the 2018 AFR Rich List.
CITIC and Mr Palmer are currently duelling in the Federal Court over expansion plans for the Sino Iron project in WA. Mr Palmer has alleged CITIC is trying to gain access to additional Mineralogy tenements without paying him a claimed $750 million.
Mr Palmer is also facing another legal fight over his collapsed Queensland Nickel business. Liquidators are attempting to recover millions of dollars owed to creditors after the business went under in 2016, leaving 800 workers out of a job.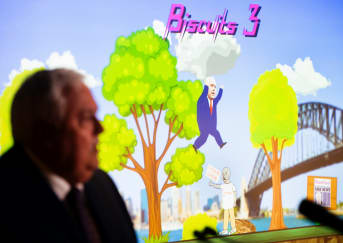 Mr Palmer and his Palmer United Party (PUP) first entered federal Parliament in 2013 via Queensland electorate Fairfax. PUP also had a number of candidates successfully enter the Senate, such as Jacqui Lambi, Dio Wang and Glenn Lazarus. Ms Lambi and Mr Lazarus left the party and Mr Palmer did not contest the 2016 election.
Campaigning under the Trump-esque slogan "Make Australia Great Again", Mr Palmer would surprise former PMs Robert Menzies, Williams Hughes and Joseph Lyons to hear they are part of his latest bid to return to the Australian Parliament – if they were alive to see it.
The original United Australia Party was set up in 1931 and included Hughes, Lyons and Menzies. It was dissolved in 1945 and became the Liberal Party under Mr Menzies.
Mr Palmer is now claiming the late former PMs as from his own party, which was established in 2018, via his party's website.
He is also sending out unsolicited texts despite receiving more than 3000 complaints from the 5.6 million Australian voters he has already contacted.
Mr Palmer told reporters at an event launching a politically themed mobile app featuring himself, it was legal for political parties to contact voters via SMS.
His spokesman confirmed more than 3000 people have complained directly to the party via text message and emails since they were first sent late last week.
with AAP