Tightening religious controls
Why was there such interest in our activities? Most likely because Golmud, in addition to being an emerging industrial hub that is home to some of the world's biggest solar farms, also has a large population of China's ethnic and religious minorities. This includes Mongolians, Tibetans and ethnic Han Chinese who practise Islam.
Tibetan Buddhism used to dominate debate about China and human rights but now Beijing wants to also contain the spread of Islam and Christianity. Indeed, President Xi Jinping is tightening the ruling Communist Party's control over every aspect of society from religion, the media, academia and now the economy.
The up to 1 million Uighurs Muslims believed to have been detained in "re-education camps" in China will be in the international spotlight next year. But when AFR Weekend visited the vast province of Qinghai in northwestern China, we found evidence that the clampdown on religious freedom has extended to the country's Hui minority muslims.
"We are worried our religion will die out after this generation. We dare not protest about this," says Liu Hang, a woman in her 30s selling berries on the side of a road outside of town. Besides Ms Liu were her two children aged eight and 12, packing boxes of fruit in the summer heat. They used to spend their school holidays studying the Koran with a local Imam. The local authorities banned that practice this year.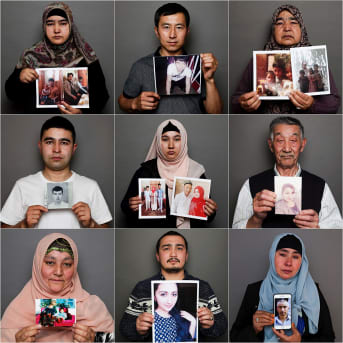 China's Hui Muslim minorities, previously largely left alone by the authorities to practise their religion, now fear tighter restrictions like those applied to Uighurs.
"China wants to be more open to the world but it doesn't treat its people well," said another woman who did not want to be identified. "We dare not protest about this."
These are the kind of stories China's leaders do not want broadcast as its human rights record, trade practices and poor track record on cybersecurity comes under increasing scrutiny from the United States, Canada, Australia, New Zealand and other western allies.
But rather than pulling back on the strict controls imposed over the past five years, Xi's China is ramping up efforts to quash dissent or diversity as the US trade war and a domestic economic slowdown threatens to disrupt three decades of stability. The clampdown on religion is part of a wider trend under Xi to ensure no minority group – religious or otherwise – becomes powerful enough to challenge the authority of the Communist Party.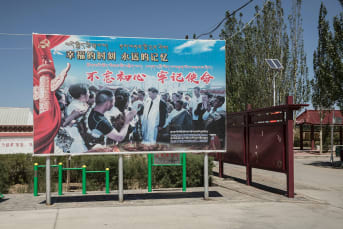 Beijing's paranoia will only increase in 2019 with two significant anniversaries of events the Chinese government has banned from the history books. It will be 100 years since the May Fourth Movement, a student uprising at the end of World War One and 30 years since the 1989 Tiananmen Square massacre. Academics and dissidents believe these anniversaries – which will, of course, not be publicly discussed – will result in further restrictions.
"Next year will be the 100th anniversary of the May 4 event and Tiananmen event so the controls might be more strict. For China, the most urgent task is to curb the economic slowdown and handle the China-US trade war because this affects employment and people's income," says Peking University political scientist Yang Zhaohui.
Lower growth, greater dissent fears
Economic prosperity has enabled the Communist Party to maintain social stability across the vast country for decades. Hundreds of millions of people now enjoy better living conditions than previous generations and the country's army of censors is intent on maintaining consumer confidence with state media watering down any negative economic news.
China has targeted official economic growth of 6.5 per cent this year, the lowest rate of growth since the financial growth. There are signs that Beijing will lower this to 6.0 per cent next year. Independent economists at Capital Economics who do not believe the official GDP data expect growth to slip from 5.5 per cent to 4 per cent by the middle of next year, according to their China Activity Proxy measure. Property prices in China are falling and consumption is slowing but Beijing is expected to counter slower growth with fiscal stimulus. Looming over all of that are US trade tariffs, which will damage exports.
"Due to the difficult economic situation, there are much stricter controls on financial journalism than in the past. It is a new trend. In the past, financial data has been open to the public. But now … most economic figures and data is controlled by the propaganda department," says Zhan Jiang, a professor at the Beijing Foreign Studies University and long-time observer of China's media.
"On the one hand censorship is stricter and stricter. But on the other hand, by way of social media we can get more information [from western media]."
To counter this, Beijing has been cracking down on "illicit activities" on social media. More than 9800 subscription-based accounts on the country's most popular social media platforms, WeChat, the Twitter-like Weibo or news portals have been shut down in the last three months, according to China's Cyberspace Administration.
Those who fell foul of accepted standards engaged in such behaviour as "defaming heroes, tarnishing the nation's image, spreading rumours and information that is sensational, lewd or pornography". WeChat, the hugely-popular online messaging platform, has deleted 76,265 articles for "exaggerated and misleading content" since the start of 2018.
A prominent stockbroker regularly quoted in the media told AFR Weekend that he was forced to take an "education program" this year where he and other market players were instructed on what to tell journalists. In southern China, authorities in the manufacturing hub of Guangdong are no longer allowed to release a monthly purchasing managers' index – which was a key indicator of the region's economic health. A number of economists said their WeChat accounts have been locked or frozen a day after they published a negative comment on the economy.
The clampdown on economic free thought has also extended to academia where lecturers say the authorities are "hypersensitive" to any references to China's electoral system and the constitution, which was amended in March to give Mr Xi the authority to remain president for life.
The introduction of a social credit system across China in 2020 is also seen as another tool in Xi's armoury to control the population although supporters say many will welcome the system which will help tackle corruption and unethical behaviour. While the Muslims selling fruit in Golmud are a long way from the university campuses in Beijing or Shanghai's broking floors, it will be increasingly harder for any of China's 1.3 billion people to question the Communist Party's policies, economic or otherwise.
One academic who says he is no longer allowed to talk to the media says: "This tight control will be maintained and may intensify."