Jumping ugly on the banks these days is a free-for-all but when Wacka entered Parliament, he struggled to be heard.
"I remember back in January 2009, when I had been a Senator for seven months, I was called up to Redcliffe and Brisbane to meet the victims of Storm Financial," he told the Senate on Wednesday in his valedictory.
"It was not a pretty picture, I can assure you. There were people who were 65, 75 and even older who had worked all their lives, saved, got some financial advice and invested in Storm Financial. It looked like they would be kicked out their houses onto the street. They were way past their working life. They could not rebuild.
"All I could promise them was a parliamentary inquiry, which we had, which was conducted by the Parliamentary Joint Committee on Corporations and Financial Services.
"The (then-Labor) government's response to that inquiry became the Future of Financial Advice (FOFA) laws."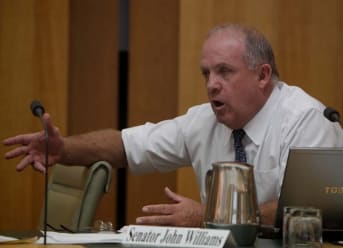 When Labor lost power in 2013, Wacka was aghast as his own side fought to water down the FOFA laws, something Scott Morrison conveniently omitted at the Press Club this week when he declared Labor did "nothing, zip, zero" in office to clean up the financial services industry.
Early call for banking royal commission
In 2014, a year into the Abbott government, the findings of a parliamentary banking inquiry Wacka helped instigate in 2011 led him call for a royal commission. At the end of the day, in 2017, it was Wacka, along with colleague Barry O'Sullivan who drove the back bench revolt which forced Malcolm Turnbull and then-treasurer Morrison to fold and call the Hayne royal commission.
"It's a bit sad to see the politics being played, but, if both sides of the chamber had listened to that recommendation back in those days, in 2014, we would have achieved a lot more a lot sooner. However, as they say, better late than never," Wacka said in his farewell speech.
Wacka will bow out of politics on June 30, joining the ranks of the few who can say they are leaving at a time of their choosing having achieved what they set out to do.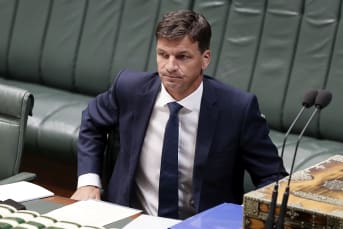 It was a mark of respect that among the large and eclectic gathering that travelled to Canberra to witness Wacka's final speech was Matt Comyn, chief executive of Commonwealth Bank, the same bank which ruined the Williams farming dynasty in 1985.
While Wacka rides off into the sunset to, as he said, spend every day of the rest of his life with wife Nancy, he leaves behind the political battle over his legacy.
Both sides say they are committed to implement the findings of Hayne. While Labor's response is still one of "in-principle support", it did attempt this week to force the recall of Parliament for two weeks in March to start dealing with at least four recommendations of Hayne, including the speedy abolition of grandfathered commissions.
The government resisted, claiming 40 of the recommendations required legislation and it all should be done as a job lot after the election, not in some unseemly rush.
At the same time, conscious of the public pressure to start acting, it defied its own logic by announcing a handful of changes which could be legislated before the election, such as banning super funds from wining and dining clients.
Labor's call for extra parliamentary sittings was primarily a stunt but it had enough substance to make life awkward for the Coalition. It is about maintaining the political ascendancy over the Coalition on banks and being able to run all the way through to election day saying the Coalition's heart is really not in it.
On Thursday, the government gave notice it would return fire by taking to the election it's "big stick" legislation enabling the forced divestment of big energy companies for engaging in anti-competitive behaviour.
It had no choice but to pull the legislation from the House of Representatives after the support it mustered had crumbled and enough crossbenchers got behind a proposed amendment by the Greens. Had the amendment passed or the bill been blocked, it would have been the second historic defeat on the floor of the house in a week. (Apart for the fact that a few in Labor feel the boat people loss inflicted on Morrison on Tuesday was a pyrrhic victory).
Labor opposes the big stick as bad policy. The threat of a "Venezuelan-style intervention" would discourage investment, lessen competition and drive up prices, Chris Bowen said, a view shared by every major business group.
As The Australian Financial Review revealed last week, sources in the Coalition felt the big stick bill was more valuable politically if it didn't pass because the government would be able to take it to the election and belt Labor for being soft on big energy companies.
Last week, Energy Minister Angus Taylor, a free-market Liberal with a strong business pedigree, hinted at the bare-knuckle politics to come when he launched an attack on a publicly listed company (AGL Energy) for making a healthy profit.
One would think the government could make populist hay given everybody uses electricity but relatively few have been ripped off by banks and super funds.
That would require a message discipline and a policy consistency on energy that until now has been lacking.
Royal Commission perhaps?
Phillip Coorey is The Australian Financial Review's political editor