"I just want to spend the rest of my life enjoying the fruit of my labour. I want a woman who would be my best friend and everything. You know someone whom we would still love each other more as the days pass by …"
Mr Prindle said he was a Swedish-American ship fabricator and electrical engineer of "international repute", a job that provided the perfect cover as to why he could never meet Ms Tsirekas, as he was always overseas.
Over the six months after their first encounter, Mr Prindle began grooming Ms Tsirekas through regular text messaging and phone calls.
He had to test how much she trusted him and he had to trust her, because at the beginning of September 2016, $3.2 million landed in an account in her name and he would need her to quickly begin distributing this money into overseas bank accounts before the fraud was realised.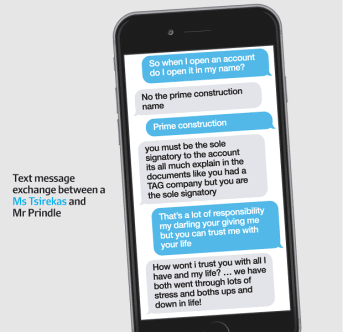 Testing the strength of the relationship
Mr Prindle began testing the strength of the relationship in April 2016, when he claimed Taiwanese sea pirates were blocking the ocean and his captain had instructed him to send his belongings somewhere safe.
Ms Tsirekas provided her home address to receive the goods. Over the next two months, Ms Tsirekas provided her passport details and paid over $6000 to overcome delivery problems that faced Mr Prindle's goods on their journey to Australia.
His things never arrived at her house. An email in early June 2016 to Ms Tsirekas from a Dr John Simpson of "Australian National Securities" said that Mr Prindle's goods were being held in Brisbane and a fee of $49,860 was required to clear them.
Ms Tsirekas fronted a further $10,000 to help clear Mr Prindle's items.
By August 2016, Mr Prindle had convinced Ms Tsirekas to assist him in setting up a bank account at NAB with her as sole signatory to the account and with the name Prime Constructions Australia. He had told her he had incorporated and registered a company called Prime Constructions Australia Pty Ltd and had named Ms Tsirekas as sole director and guarantor.
Mr Prindle claimed he had done previous contract work with debtors under this company name, and they could only pay him into an account belonging to that company.
Defrauding Automotive Holdings
On August 22, 2016 Automotive accounts payable officer Mia Andreatta received a call from "Hannah Phillips" who said she was calling from Prime Constructions.
Prime Constructions had been contracted by Automotive to perform construction work on sales outlets, as Automotive expanded its operations in Australia's eastern states.
Ms Phillips said Prime Constructions had new banking details and she asked Ms Andreatta to update them before the next payment.
No one called Hannah Phillips worked at Prime Constructions.
Ms Phillips followed up her call with an email with the new bank details, the name of which was Prime Constructions Australia, not Prime Constructions. She sent this email from the account hannah.phillips@prime-constructions.com.
On the 2nd of September 2016, $3,199,060 was transferred to the Prime Constructions Australia account in Ms Tsirekas' name.
Mr Prindle then began instructing Ms Tsirekas on where to send the money, to accounts in Italy, Britain, the Ivory Coast and the Philippines.
On September 6 at 4.18pm the account was frozen. Prime Constructions had told Automotive that it had not been paid and the fraud was quickly discovered.
The judgement
Automotive Holdings' claim against Ms Tsirekas of $552,627.48, the amount that went overseas before the account was frozen, was dismissed by Justice Slattery as that sum did not remain in Ms Tsirekas' hands.
Justice Slattery wrote that Ms Tsirekas "was, at best, an innocent volunteer who received stolen money".
Ms Tsirekas took $16,200 out of the Prime Constructions Australia account to repay herself for the money she had lent Mr Prindle over the course of their relationship. The judge allowed her to keep this money.
A further twist in the tale is that Ms Tsirekas had previously been the victim of a catfishing fraud, a 15-month relationship with a man named "Arthur" where she made advances totalling $180,000 to him. Arthur continued to ask her for money during her relationship with Mr Prindle.
It is understood Automotive Holdings has added extra levels of security to its accounts processes when vendor details are changed.