The Dow Jones Industrial Average fell 660 points or 2.8 per cent on Thursday, and Apple almost 10 per cent, following its earlier after-market profit downgrade blamed on sales of the iPhone, iPad and computers in China.
Liquidity vacuum
The stock's proximity to the trade war and the extent of its downgrade, outside of the company's normal reporting cycle, stoked investors' fears of worse to come. But confirmation on Friday that a US delegation will visit China for trade talks, the first face-to-face negotiation since President Donald Trump and Xi Jinping agreed to a 90-day truce, appeared to inspire a rebound in the trade-sensitive currencies.
The Australian dollar was the best performer, advancing to US70.21¢, after a torrid 48 hours where it visited a 10-year low. The currency was caught up in a flash crash moment on Thursday where a liquidity vacuum sent it tumbling against the Japanese yen and the US dollar. The Australian dollar rally on Friday showed the danger of being short the currency in the event there is a positive development on the trade front.
"For all the doom and gloom which is clearly justified, that could quickly reverse in the next couple of weeks on any trade deal," Mr Attrill said. "It's a bit like Brexit, it's quite binary but you've got no idea how it's going to work out."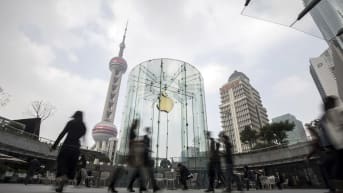 The late optimism around a trade truce was not enough to reverse declines in Treasury Wine Estates which fell 4.4 per cent, The A2 Milk Company by 3.8 per cent, Blackmores 2.6 per cent and Bellamy's Australia 1.1 per cent on Friday. Those stocks are regarded as beneficiaries of Chinese demand.
After a meeting at the Group of 20 summit in Argentina last month, Mr Trump agreed to ice a planned tariff escalation on Chinese imports for 90 days with the aim of reaching a mutually acceptable deal. The outcome unleashed a bullish response in risk assets but was quickly eroded by Mr Trump's declaration that he was a "Tariff man". Markets have been grappling with elevated volatility ever since.