Appen beat its already upgraded earnings guidance on Monday, reporting full-year underlying earnings before interest, tax, depreciation and amortisation of $71.3 million, beating expectations the figure would be between $62 million and $65 million. Its shares rose 21.7 per cent to $22.90.
QBE Insurance shares rose 4.2 per cent to $11.96 as it posted a full-year net profit of $US390 million ($547 million) after shedding some of its overseas businesses and a reduction in the number of natural catastrophe claims.
BlueScope Steel advanced 6.3 per cent to $13.13 on Monday after recording its highest half-year profit on record in the first six months of 2018-19. The result was driven by a stellar six months at its North Star steel operations in Ohio, where profits rose by more than 180 per cent.
Brambles closed 2.8 per cent higher at $11.93 after announcing it had sold its IFCO reusable plastic containers business for $US2.51 billion and pledged to return a proportion of the proceeds to its shareholders.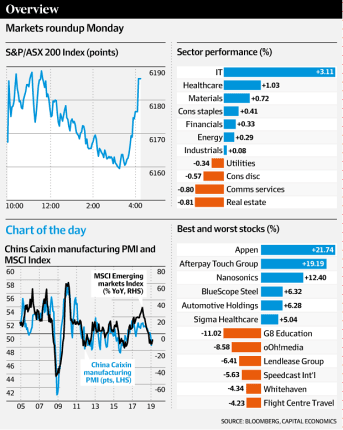 G8 Education shares fell heavily on Monday after the childcare centre operator reported a weak full-year net profit result. The company cited lower first-half occupancy levels amid an increase in construction activity as the key reason behind the fall. Its shares closed 11 per cent lower at $3.23.
Lendlease's result disappointed shareholders as the company's shares fell 6.4 per cent to $13.28. The diversified slashed its dividend by almost two-thirds and recorded a $1 billion slump in revenue for the first six months of the fiscal year in what the company said had been a "challenging half year".​
Stock watch
Australian Financial Group
Macquarie upgraded its recommendation on Australian Financial Group from 'neutral' to 'outperform', saying its remuneration model was becoming clearer and that regulation risk had been reduced. The broker also lifted its price target on the company by more than 20 per cent despite the analyst forecasting extended subdued mortgage settlement volumes until 2020-21. "We had applied a 40 per cent discount to our valuation following the heightened uncertainty following the royal commission comments on mortgage brokers remuneration structures. Having remodelled for the expected remuneration model structure and cut settlement assumptions we have removed this discount." Macquarie upgraded its price target on Australian Financial Group from $1.17 to $1.48.
What moved the market
Emerging markets
Emerging markets' strong start to 2019 is likely to be reversed at some point this year, according to Capital Economic, who are forecasting a slowdown in China's economic growth will weigh smaller economies. "We think that the recent rise in the MSCI EM Index, and the particularly strong performance of equities in China and most of the rest of EM Asia, will reverse in the coming months," said chief markets economist John Higgins. "We expect China's economy to weaken further despite recent stimulus efforts. That would probably cause those countries and sectors to underperform again, and the MSCI EM Index as a whole to struggle."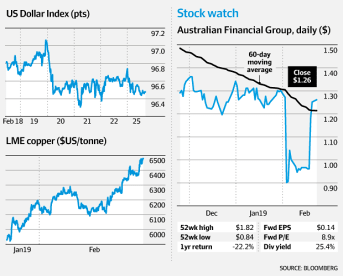 Copper
Copper continued its strong run for 2019 last week and is now within touching distance of $US3 a pound, a level it hasn't hit since June 2018. Copper led an advance of base metals on Friday on the news that talks between the US and China had been very productive. Supply concerns are also lifting the price of the base metal. The suspension of Vedanta's southern Indian copper smelter, a truck strike in Peru and reduced production plans in the Democratic Republic of Congo, the world's sixth largest producer, have sparked supply concerns with LME copper stockpiles now down to their lowest level since 2005.
US dollar
The US dollar retreated slightly on Monday after the announcement from President Trump that he would delay an increase in tariffs on Chinese goods. The US was expected to lift its 10 per cent tariff on Chinese goods to 25 per cent on Friday, however positive negotiations between the sparring nations will place those plans on hold indefinitely. The US dollar has been a safe haven for investors amid the trade war tensions. Mr Trump said in a tweet on on Monday that progress had been made on a number of divisive issues including intellectual property protection, technology transfers, agriculture, services and currency.
British pound
The British pound's reaction to US President Donald Trump's tweet on Monday was only muted, as the country faces increased uncertainty surrounding Brexit. The Telegraph reported on Sunday UK Prime Minister Theresa May was considering plans to delay Brexit for up to two months in a bid to avoid ministerial resignations. Under Article 50, the UK is poised to leave the European Union by March 29, however if Ms May is unable to garner enough support for her Brexit plan by March 12, when a meaningful vote on her deal is set to take place, she may delay the departure in order to avoid a no-deal Brexit.