It would give APRA increased powers, including direction orders to force super fund trustees to act in the best interests of their members.
Until this bill is passed, APRA has to rely on changes to its prudential framework to lift standards in the industry. It did this on Wednesday with the release of Prudential Standard SPS 515 covering strategic planning and member outcomes and Prudential Standard 220 covering risk management.
SPS 515 forces trustees to have strategic objectives to support member outcomes, have a board approved business plan, ensure that decisions to incur expenditure support strategic objectives and conduct outcome tests annually.
Contempt for members' funds
This standard is in response to certain trustees ignoring or treating with contempt their obligation to look after the interest of members.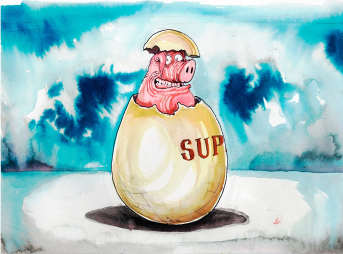 Examples of trustees that have done this include those running funds with persistent poor investment returns relative to benchmarks and in absolute terms, those running funds that have wasted money on expenditure that delivered no benefit to members and those running funds that are sub-scale or with persistent negative cash flows.
APRA showed some teeth by ensuring that SPS 515 does not just apply to MySuper products. It will apply to all legacy products. That is significant because it means the trustees of the large rump of poor performing super fund products will have to act.
The Productivity Commission in its interim report on efficiency in the super system found that funds with high fees and poor performance have about 2 million member accounts and $100 billion in assets.
In Chanticleer's opinion, the most interesting document released by APRA was the Prudential Practice Guide SPG 516 because it explains to trustees their obligations in clear language.
There will be no excuses in the future for trustees who oversee persistent poor outcomes for super fund members.
APRA deputy chairman Helen Rowell was on the front foot on Wednesday for the second time in a week. She was on the front foot last week when she took action against IOOF and its chairman and executives.
"These changes to the prudential framework set a higher bar for RSE licensees by requiring a robust assessment of the outcomes delivered for members to be reflected in their strategic and business planning," she said in a statement.
"These new policy proposals address weaknesses in the current superannuation regulatory framework and would greatly assist APRA in driving the superannuation industry towards addressing underperformance and improving member outcomes."
The real test of Rowell's willingness to get tough with the sector will be how she approaches the trustees of the funds with an estimated $1 billion in assets that should be merged with larger funds.
Trustees of some of these funds have treated their board positions as sinecures and have failed their members.
Tony Boyd