UBS downgraded its earnings per share forecasts for the financial years 2019 to 2021 by between 11 per cent and 14 per cent.
The analysts said the drivers for Costa's profit downgrade were fourfold: softer Australian demand and prices in December and January; weaker citrus results due to quality issues and the season ending early; increased costs like water; and a five-week delay in Costa's South Australian mushroom expansion.
UBS said the reason for subdued demand in Australia could not be pinpointed and although they maintained a buy rating they had "lower conviction" in the company until they could answer why this was the case. UBS set a 12-month price target of $6.80 for Costa.
Buying opportunity
Costa investor, Tribeca Investment Partners portfolio manager Jun Bei Liu, said the share price rout presented an opportunity.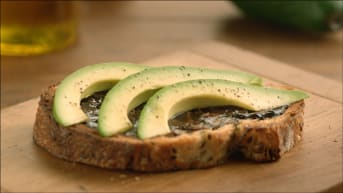 "These are the times when you can actually build your position within this company, because the growth profile in this company is not one year, it's much longer than that," she said.
Ms Liu is attracted to Costa's international operations as a source of ongoing growth.
"The demand is not only domestic, it is coming internationally and they are well leveraged into that."
Ms Liu said supply and demand risks are inherent to a company like Costa but she said it was too early to tell whether any of the issues the company is experiencing were structural.
She said Costa had had a similar experience to Thursday's downgrade soon after they listed, with an oversupply of tomatoes depressing prices and punishing its share price.
Ms Liu said the market was confused by the year-end period Costa used in its release to shareholders and this meant the profit downgrade was interpreted perhaps more dramatically than it should have been.
Costa Group has switched from financial year reporting to calendar year reporting, and the six months to December 2018 was the interim period that bridged the gap between the switch.
Mr Debney disagreed investors were confused and said the reporting switch had been flagged at Costa's annual general meeting in November 2018 and numerous other times.
Nonetheless, the severe share price rout caused Costa to scramble on Thursday afternoon, organising a last-minute conference call that 200 investors and analysts dialled into to understand the shock downgrade.
The company attempted to placate investors during the call, assuring them that its longer term growth guidance remained on track.
Analysts at Goldman Sachs said they thought the share price reaction on Thursday was "overdone" and upgraded the stock to a buy.
Goldman Sachs have cut their earnings per share for Costa for the financial years 2019 to 2021 by between 10.8 and 11.5 per cent, although they said the key drivers of earnings growth remain unchanged.
"The revisions are largely due to lower pricing assumptions for certain produce categories as well as a delayed ramp-up in [mushroom facility] Monarto," analysts Michael Peet and Myron Xie said.
The broker said it expected 2019 "to remain a strong year", as the company ramps up their berry production in China and Morocco and enters the on year for the biennial citrus cycle. Goldman Sachs set a 12-month price target of $5.90 for the stock.
Goldman Sachs said the risks facing Costa are weak pricing, execution on international markets and poor weather conditions impacting production.